TERAOKA PRODUCT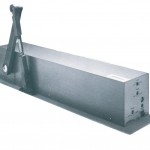 TERAOKA COMPANY PROFILE

Teraoka is Japan's leading manufacturer of automatic door operators. With its experience over 40 years plus technological improvements down to every detail, Teraoka is recognized as a pronoun for quality products.
Its complete line of models meets just about every kind of need regardless of its structure.
A wide range of Teraoka's sensors adds additional versatility and flexibility to your application.
For auto door operators, come to us. You don't have to compromise on any detail.

Teraoka has a complete range of door operators for sliding doors, swinging doors, circular sliding doors, telescopic doors, et cetera.Teraoka door operators are now being adapted to every architectural applications from small shops to parliament buildings, from hospitals to nuclear plants, from airports to factories and so forth.
Teraoka Autodoor Inc., (called Chikura Industry Co.,Ltd. in Japanese language) as a manufacturer and exporter of Teraoka automatic door operators obtained a certificate of ISO 14001 standards in May 1998.
We at Teraoka are responsible for protecting our environment.